Welcome to Aspen Dental Group
You'll find tons of reasons to smile when you visit Aspen Dental Group! Our Victoria, BC dentists - Dr. Foo, Dr. Thiessen, Dr. Choboter and Dr. Crosby - and their staff offer a full range of restorative and cosmetic dentistry services, including cosmetic bonding, Invisalign®, teeth whitening, and dental implants.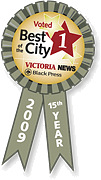 Our patients come from different lifestyles and age groups, but all agree, Aspen Dental is the choice for warm, professional, leading-edge smile restoration! We are proud to acknowledge being voted "Best Place to Get Your Smile Improved" by Black Press (Best of Victoria, BC)!
Contact our Victoria dental office to see how we can help you open new doors, with a new, beautiful smile!